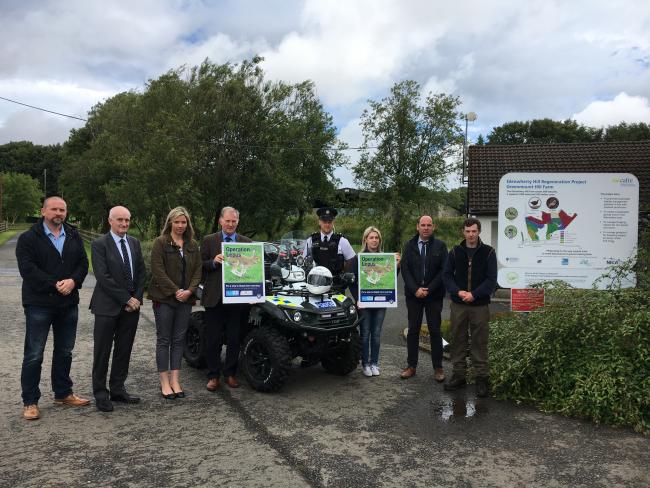 Our Gamekeeper, Alex Rodgers (far right in photo), attending the launch of Operation Lepus
 
Operation launched to stamp out wildlife crime 

An initiative aimed at stamping out illegal hare coursing events and illegal poaching in the Glenwherry areas of Ballymena and Larne, has been launched by Police along with partner agencies and the local community.Inspector Simpson said, "Following concerns raised by local farmers and landowners, local PSNI officers will be undertaking targeted patrols in known areas.

PSNI Wildlife Liaison Officer, Emma Meredith, said, " PSNI take all wildlife crime reports very seriously, be under no illusion that if a wildlife crime is identified the person/s in question will be reported to the Public Prosecution Service with a view to a prosecution. I am delighted the PSNI, organisational partners and the local residents are working together to combat wildlife crime in the area."

Inspector Ruddy said, "We are listening to local farmers and landowners with a view to addressing their concerns. We're aiming to raise awareness about the issues but the PSNI cannot combat wildlife crime alone and so, I would urge anyone who wishes to report a crime, if they are a witness to a crime, or simply, if you are a farmer or a landowner and you'd like to report any suspicious activity or people on your land - particularly anything suspicious - please contact police on 101."

The PSNI are working with the Department of Agriculture, Environment and Rural Affairs (DAERA), and in particular the College of Agriculture, Food and Rural Enterprise (CAFRE) through its Glenwherry Hill Regeneration Partnership (GHRP)project and other interested parties to raise awareness of the issue amongst their membership.
For more information, please click on link below: